Handicap Sequence
Robert Pauli: The handicap placement can be explained in just one diagram.
If I remember correctly[1], the sequence to set up 9 handicap stones given by Takagawa Kaku in his book about handicap strategies is as follows: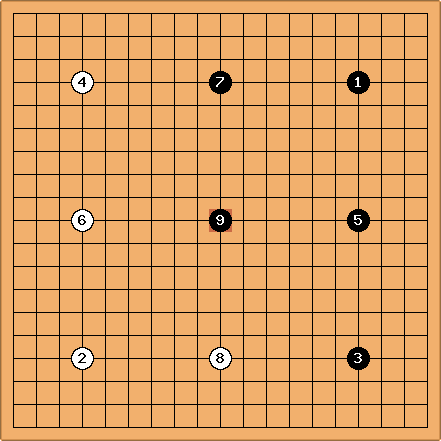 Black is at the bottom. Please treat the white stones as being black. Sorry about the imperfection.
This sequence also applies to fewer handicap stones, with three exceptions:
---
The AGA rules of 1991 specify exactly the same rules for handicap stones.
---
There seems to be no agreement, however. In a publication of the Nihon Ki-in, tengen is occupied before the side hoshis in case of 7 or 9 stones. Does not please me (RP).
Actually they use the diagram above with 9 replaced by 5 and each side hoshi number increased by one. Then they start to explain that
the diagram shows the placement for a handicap of 9, that
for 6 you need to clear the center column,
for 7 you need to clear the upper and lower side hoshi,
for 8 you need to clear the center, and
for the rest you simply follow the sequence given in the diagram.
Before all that they mentioned that for one rank weaker you take black. Well, that's almost as bad as 8 diagrams.
---
Is this the Kansai Kiin version? This booklet exchanges 7 and 8 (pp. 22 - 23). Strange: With no symmetry to be considered, why shouldn't 7 prefer the top just like 1 did?
---
[1] RP: Could someone please check this. Unfortunately I no longer possess the book.