Gote Seki
A seki that is achieved in gote, from the point of view of a player trying to solve a life and death problem (usually either trying to save a group that looks dead, or kill a group that looks alive). This is an obviously worse result than a sente seki solution to the same problem.
---
Examples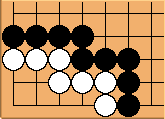 Did White omit te-ire? Solution.
Not really. White to play can make 5 points of territory. Black to play can make seki or ko. In fact, Black probably missed a kikashi.