Gokyo Shumyo, Section 1, Problem 58 / Solution
White enlarges her eye space with 1, then makes eye shape with 3. Incidentally, White 1 - Black 2 makes a notcher with code 411WN. ihmsje: what happens if white descends instead of move 3? I think this reverts to problem 28 in this series or do I miss soemthing?
---
The solid connection at 3 fails. It makes a 312NS notcher. How to attack this shape?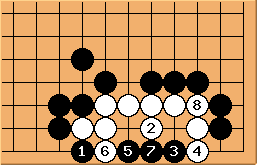 Usually, there is death in the hane, but not here.
This is the correct way to punish White: Black 1 strikes at the vital point, and if White 2, the hane kills.
If White enlarges her EyeSpace, Black 3 and 5 prepare it to be almost filled with a killing shape.
---
Go to Problem 59
Back to Kanazawa Tesuji Series