Gokyo Shumyo, Section 1, Problem 50 / Solution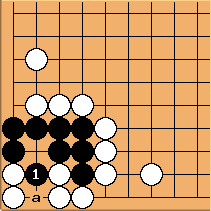 White cannot protect at a because of shortage of liberties and Black will make two eyes.
---
Black's formation is a carpenter's square. The vital point of this shape is the marked point (2-2 point?). If White plays there instead of at the marked stone, the position becomes ko.
Yohei: When all the outside liberties are filled, as is in this case, White a or b also make ko.
---
Go to Gokyo Shumyo, Section 1, Problem 51
Back to the series