Gokyo Shumyo, Section 1, Problem 1 / Solution
Main line: HashimotoUtaro
Variations: Dieter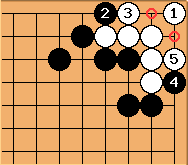 This problem is an illustration of the proverb: "In a symmetrical position, play the symmetric point".
White must play

in order to live. Any other move fails.

and

only go to show that White makes eyes at the marked points.

and

should be held in reserve as ko threats. Please note that they are losing ko threats.

fails.
After

, White needs both a and b. White can't play two moves in a row, so her group is dead.
White starting a also fails; it the mirror image of

.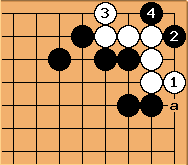 and

make a bent four in the corner shape, killing White. We assume that White can't escape at a.
---
See also: Bent five on the second line in the corner
Back to Gokyo Shumyo Tsumego Series
Go to Problem 2