Go in extreme places
Go in Space

Go on ice with Igor Grishin and Dmitrij Maljutin :
More photos of extremal baduk on ice:

http://way-of-go.com/gallery/thumbnails.php?album=2
DrStraw: The photo above looks more like GoMoku
Phelan: Apparently the Brooklyn Go Club played underwater:
More photos from Vit Brunner:

http://www.czech-go.net/photos/misc/extreme/ext.php
Playing Go on snow, in Russian forest. Ivan Zhmak vs Dmitrij Platonov :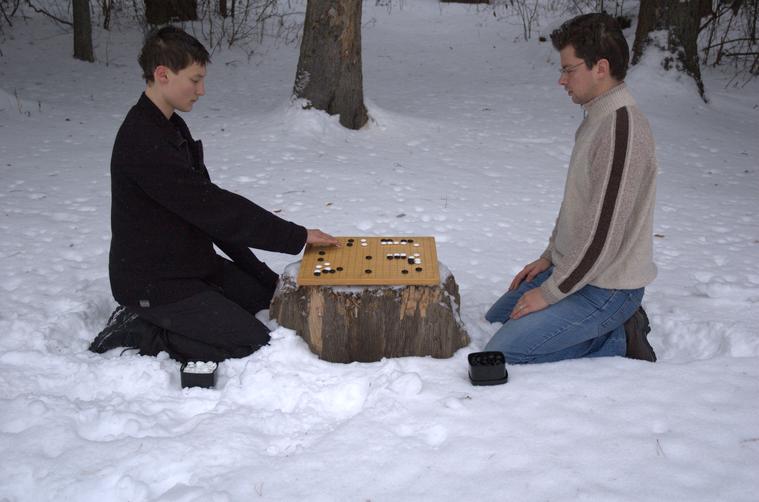 For contrast: Dmitrij Maljutin (left) vs his friend (Kerala, India):
More photos:

http://gouti.ru/keywords/ekstrimal%27noe-go
Vladimir Spiridonov (left) vs Mikhail Emelyanov during the Go camp.
Dmitrij Maljutin (left) vs Alexei Kozhunkov? during the Go camp
Simultaneous games by Igor Grishin. Rain is not the problem at all!
Igor Grishin, as usual.
---
Tamsin - Wonderful page! It's not easy for us people living in England to put up comparable pics. The most extreme place I've ever played was probably in my friend's garden :-)
---

Hikarob - It remember me a picture taken from my girlfriend while I was playing with

Lorenz on Monte Tamaro in Switzerland:
Or this one, during Ascona Tournament in July 1997:
Phelan: I've seen a photo of two WMSG participants playing on the Great Wall of China, but I can't find it right now. Edit: Found it.
Matti: There is a photo where one of the players was exactly 19*361 days old.