Get Strong At Letting Dead Groups Live
Get Strong At Letting Dead Groups Live
by unkx80, The Unknown Press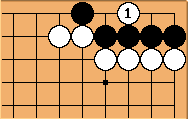 This book describes the various strategies of how to let dead groups live. It is a companion to a number of other books in the "Get Strong At" Series, including Get Strong At Being Weak, Get Strong At Resigning and Get Strong At Sandbagging.
Contents:
You love peace and do not want to kill unnecessarily.
You want to resurrect dead groups, but are not strong enough to resurrect your own dead groups.
You want to save your opponent's dead group, so that he will reciprocate and save your even larger dead group.
How to save your boss' face when you are playing a game of Go with him.
The group is already dead, so you can play anywhere to kill.
The self liberties reduction method of letting dead groups live, in particular, the auto-atari technique.
The uh-oh, ack and oops technique.
How to deliberately make dead groups live while pretending it is an accidental mistake.