Fushigifuseki
I was just reading the Manchurian Fuseki and High Manchurian, and I was wondering what people thought of this setup?
I'm new to go, and have been looking for a more 'personalized' fuseki to use. I've tried this one a couple of times, and it worked out so-so (Not sure if I did bad in the games due to the opening or just crappy play).
A and B are the places I was thinking about for expanding. - Sotohito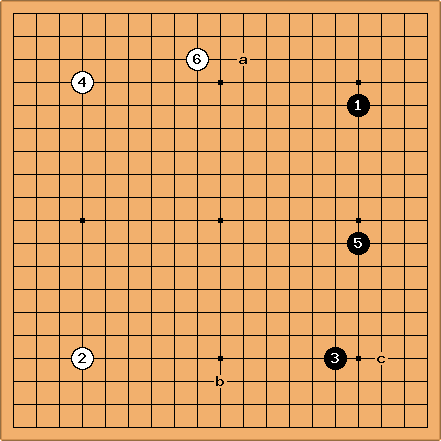 I don't have any records or kombilo to really check the pattern out, so I'm not sure how original it is.
---
Ideas?
Hikaru79: When you say you played it, was it as black or white? Because

seems like wishful thinking to me here. It gives black a corner enclosure which leads to a very dominating right side. I don't think White would play there. Around C seems more natural (to me at least) .. then again, I'm no expert on Fuseki either :)
Sotohito: Ah. I was black... I don't have the .sgf from the games right now, so I can't be sure if that was white's moves. I'll try to find it to make sure.
---
HolIgor: I don't think that the exact position of the white stones matter much here as we are discussing the formation of the black stones only.
One thing that is not so good here is the fact that in order to get territory black would have to come back and protect the corner. That would be a loss of a move later in the game. So, white's strategy would be to force black to do so.
The difference with the usual Chinese fuseki is that if white invades the space between

and

and black attacks the invaders from bothe sides, the territory in the corner is not obtained automatically. The corner has to be propected yet. The situation at the lower side is better. I would start to develop in the direction of b next. Maybe one more point to the left from b, because I expect that at some point white invades the lower right corner and the resulting wall will be really high.
Having played all high stones black has to think a little bit about balancing with the next moves.
---
Benedictu5 It seems to me that Black 5 is not correct in the above diagram. Black 5 should be at a-d or even at e-g in de following diagram.
---
Dieter: See /AI analysis. The original

-

-

makes Black already trail by 3 points.