Fujitsu 3 Game 5
Event: 3rd Fujitsu Cup 1990  on Jan van der Steen's web site
Round: Round 1, game 5
Date: 1990-04-07
Place: Tokyo (Nihon Kiin), Japan
Black Player: Ishida Yoshio
Black Rank: 9 dan
White Player: Yang Chae-ho
White Rank: 6 dan
Komi: 5.5
Result: W+1.5
Source: 1991 Kido yearbook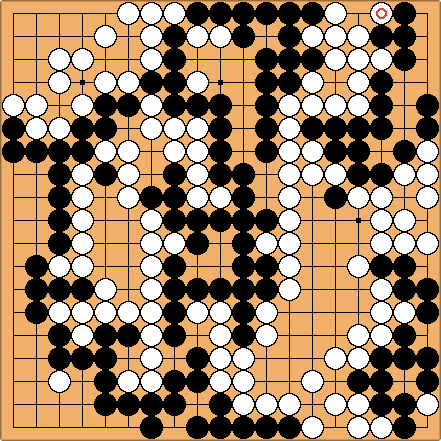 White connects the half-point ko.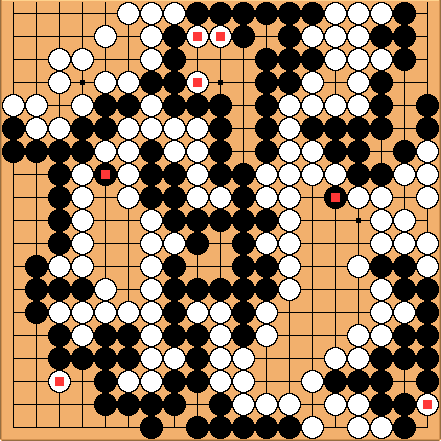 Dead stones marked
After the dame have been filled the position should look something like this.
Captured stones:
B: 12
W: 16

With Japanese scoring:
B: 57+16+5=78
W: 57+12+2+5.5=76.5
-> B+1.5

With Chinese scoring:
B: 184
W: 177+5.5=182.5
->B+0.75

---
So, what's wrong? How does White win?
Thanks for suggestions.
--jvt (feeling very puzzled)
---
BillSpight: Hmmm. Might the reported winner be a typo?
---
jvt: According to

Jan van der Steen's web page Yang Jaeho won. But maybe he played Black, not White, and the two mistakes cancelled each other?
SAS: This appears to be the explanation. This game is briefly mentioned in the May 1990 issue of Go Moon, where it says of Yang (although he is not mentioned by name) that "he defeated on black Ishida Yoshio by one point and a half".