early play on the side
Black 1 was played at a 10-3 point by Yasui Santetsu in a classical game in 1625 or 1626, and by Takahashi Shigeyuki in 1928. At a 10-4 point was played by Tamura Yasuhisa in 1898 and by Liu Jing in 2001. The 10-5 point was tried by Tanaka Fujio in 1938, and by top amateur Kikuchi Yasuro (3rd Amateur Best Ten 1963). Then Suzuki Etsuo played a 9-5 point in the 1965 Honinbo League. See floater for the 10-6 opening.
---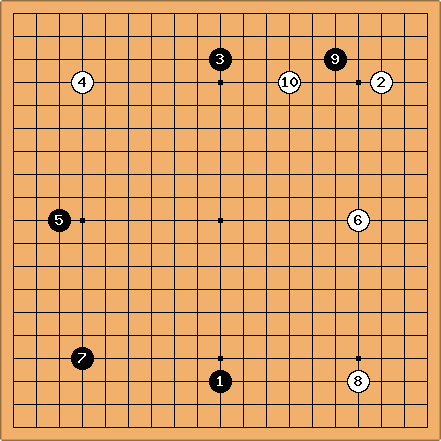 On a less elevated level, a game Cas Muller 3 dan vs. Helmut Hasibeder 4 dan from the 1976 European Championship started this way. White 6 foiled Black's 'plan'. But Black won the game.