---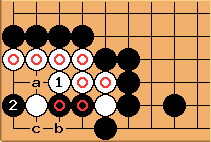 tderz: in above diagram, White is a bit too much fixed on this whole snapback theme,
even anticipating it when not present:
after

, Black was indeed threatening snapback a, if he had enough time & liberties,
however, both

and

have two liberties now and White has sente, thus she plays

= b and captures the

in time.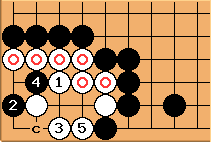 tderz: this is the result, hence only Black

= c would be the right answer, if White was to chose

as shown here.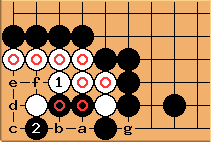 tderz: Please notice, that there is no ko option left, as Black a, White b etc. ends in self-atari e and capture f.
However, if White (assuming an enormous ko-threat surplus) was to start with

= e,
Black might chose to connect at g to remove even this remote, disadvanageous ko-aji of White.
---
---


There's: