Double Snapback / Attempts 6
Aganju: okay, here is my attempt: (Actually, the task was 'Black to live', but by killing white, black is living)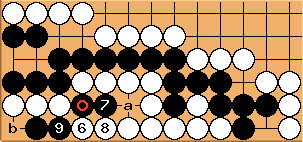 Let's first look at

below

: White cannot play

at a because of self atari. After

, if white takes at either a or b, black replays

or

for the double snapback.
unkx80:

at

? =)
---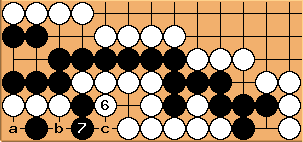 If

instead here, white is helpless after

. Any approach move at a, b, or c is self-atari.
Black can play b and then a at leisure; and finally c for the kill.
---
---
Now maybe the whole concept would work even better if the sequence is changed? Starting with

, and playing

/

later might kill white for sure? (I leave that for someone else to analyze)
Yes, the throw-in reduces White's liberties in some lines, but Black's in others. So Black should wait to play it until they see which way White plays.