descent/Discussion
Velobici: What is the relationship between descent and sagari? Are there any moves that are descent but not sagari...similarly are they any moves that are sagari that are not descent?
Go Player's Alamnac: sagari: Descent. A move which extends solidly toward the edge of the board, without touching any opposing stones.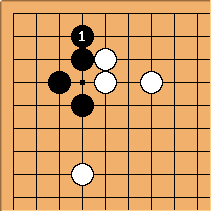 Bob McGuigan: Sagari is a non-go-specific word in Japanese which comes from the verb sagaru meaning "hang down, dangle, come down". I think descent is simply an English translation/equivalent and there is no difference in meaning.
Bill: The infoseek definition for go specifies that a sagari is a descent from the third or fourth line. That is in line with comments by John Fairbairn that a descent to the first line is not a sagari. However, I have some Japanese go books from the 60s and 70s that do call such a descent a sagari. Japanese usage may have changed since then.
Bob: Probably splitting hairs but, in keeping with the "dangle" or "hang down" meaning of sagaru, descent to the first line would reach the "ground" and hence not hang or dangle :) Thus a descent to the first line would not be a sagari.