Dieter's analysis: White has the follow-up of 1 and 3. Black can either play ko (but it's a flower-viewing ko for White), or defend as in the next diagrams.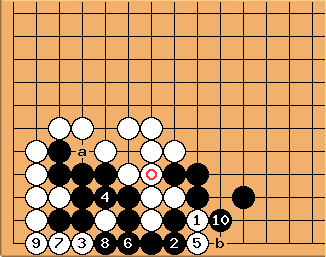 Later Black will have to answer a at b.
Bill: I believe that Black 4 is better at 7. Later Black will have to make a protective play.
---
Dieter: Now I will try to count this position, assuming the ko is too large for Black to bear. I am bred with deiri counting and I'd much appreciate Bill and others providing the miai counting analysis.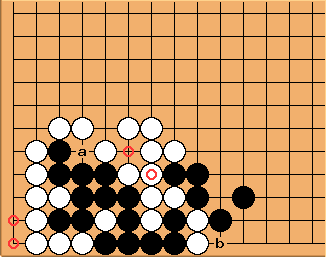 Compared to the neutral position, White has made three points. Black has six points. White has gained 6 points over the neutral position..
---
If White 1 is sente, its value is 7,5 x 2 = 15.
If White 1 is gote, we add the sente follow up of 6 points to the 7,5 = 13,5.
I understand the flaw of estimating the value here.

is sente, if the next biggest play x < 6. White's next play y = min(x,6), so 15 is an overestimate.

---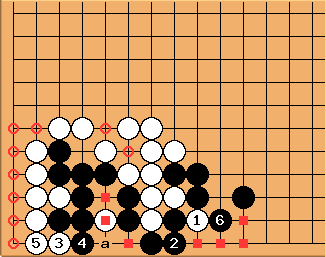 Bill: White 1 - 6 is sente. Later Black has to make a protective play, say at a.

Counting the marked points, the local score is +1.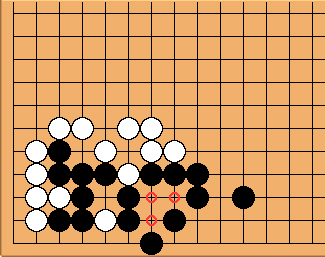 The question then becomes how to count this position. (Three white stones have been captured at the marked points.)
I get 12+ points, the exact value depending on komaster.
That makes the original position worth 6.5+ points, and the miai value of taking or saving the three white stones 5.5+ points.