biased framework
In the diagram below, derived from Reducing Territorial Frameworks, p.21, Black has a framework in the lower right.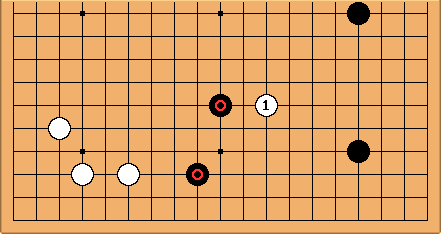 According to Fujisawa Shuko, 1 is the vital point for reduction. He says "anything deeper feels like an invasion". It looks like Black's marked stones are pushing toward the right-hand side, so to go in deeper would be to invite attack.
Compare this framework: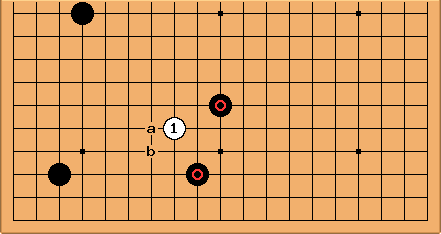 Here, White can go in a bit deeper, either at 1 or a or b, because the framework is biased away from the that area. The marked stones are pointing toward the right.

I was struck with this example, which I suppose illustrates direction of play, as it shows one way in which to decide where to perform a reduction. Does anybody know if there is a real name for biased framework? -- Tamsin
Shuko goes further: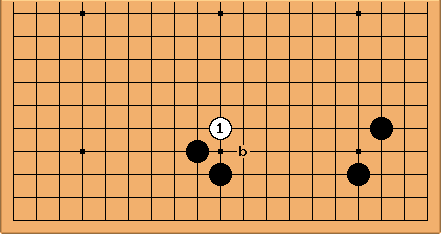 Both 1 and b are acceptable reductions.
I should add that the book's examples only show the side stones and not the corner formations, and Shuko is a little vague about details, using only such phrases as "for a moyo on the left". But, what you can see from both examples is that if the moyo points "outward", then you can erase more deeply than if it points "inward".
--Tamsin
---
Charles I wonder what it does illustrate.