Beginner Exercise 68 / Solution
Lonestar: After

, White cannot get a second eye, as the following two diagrams show.
lavalyn adds some more diagrams
---
Jacob4Jesus: After

only a and b matter. They are miai to kill. N o matter what W does

should play on one of these. After

white is dead and

may be played elsewhere. (Except the first diagram case)
---
Reuven: Not at all sure if it's appropriate at all but perhaps the problem could start a bit earlier: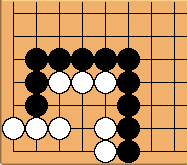 Taking the position one move back like this also results in a single correct move, leading to the discussion above.
---