Beginner Exercise 47 / Solution

creates a ko. Black cannot respond at a because of shortage of liberties. Any response that does not threaten

(except b, discussed below) will capture the two black stones at the right in a snapback (White b, Black a, White b).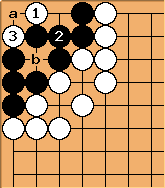 connects and

sets up the ko in which Black takes first at a. If White wins the ko, he captures four Black stones at b.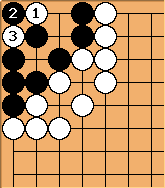 Black can also start a ko with

. However, this ko is inferior for Black when compared to the solution because after

takes the ko, Black has to find the first ko threat (see try to get first capture in a ko).
---