Beginner Exercise 298 / Solution
White's strongest resistance leads to seki.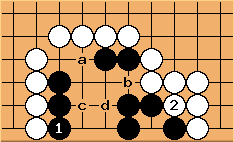 This

doesn't work either.
If

at either a or b then white takes the other point, reducing the eyespace to a bulky five.
If

at c then

at a kills, while

at d will be answered by

at b.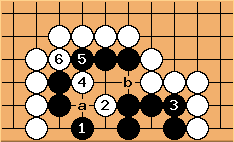 here might look promising, but it's also a mistake which is punished by the clever sequence up to

.
If black plays

at a then

at b sets up a snapback.

at b is answered by

at a capturing the stones on the left.
---