Beginner Exercise 246 / Solution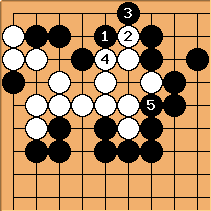 connects the three stones outside, as shown by the exchange of

and

. Now

and

are miai, so White has only eye at the side.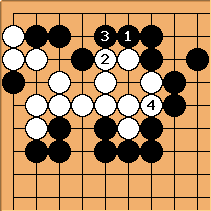 The usual block at

fails, because it allows the dual-purpose move of

. It threatens capturing the three Black stones at

as well as making the second eye at

.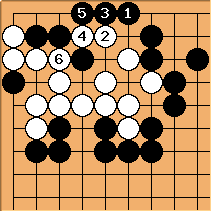 tries to apply the first-line large knight's move connection technique, but

to

captures one Black stone and lives.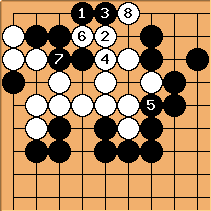 tries the other diagonal. However,

is sente and forcing

if Black insists on the kill. Now after

and

,

can atari.
While white cannot run, can she kill the black stones in the corner after this? Or is there a better option for her?
This could be a better option. Black can start squeezing at a, but I don't think that Black can manage to live inside with two eyes, and it seems to me that white can win the capturing race (not entirely sure though, looks complicated, maybe Black can get seki? Anyway, the connection in the solution is certainly better and simpler).
---