Beginner Exercise 209 / Solution
There are multiple solutions that satisfy the objective of the problem, however this is the one that results in the least loss for Black.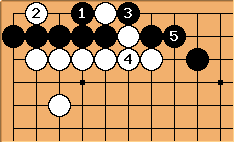 makes a straight three. If

makes a placement, then

makes

and

miai. After

, Black connects to the outside stone and escapes, and by conventions in life and death, is considered successful.
---