Beginner Exercise 199 / Solution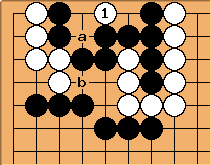 The solution is the placement at

which prevents Black from making two eyes here. It simultaneously threatens the snapback at a as well as the cut at b.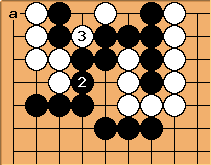 The best Black play is to save the remainder of the Black group with

, allowing

to capture two Black stones for an eye. Note that White has an eye in the corner at a.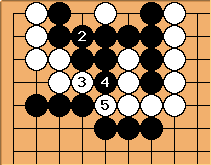 If

refuses to give up the two stones, then

and

cuts. It is four liberties to two, so White wins this capturing race.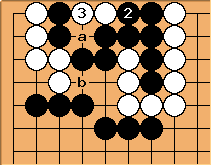 here is a more interesting resistance. But

is an atari, making miai of the capture at a and the cut at b.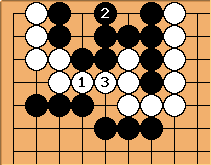 It is possible for White to save the corner group by playing first at

, but

will simply make two eyes and allow

to connect outside. However, White did not get to capture anything. (If

is played at

, then

can be played at

and revert back to the solution.)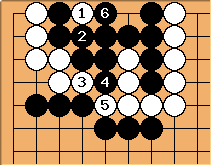 The atari at

here is a mistake. After connecting at

, if White cuts the group with

and

, then

lives with two eyes.
---