Beginner Exercise 195 / Solution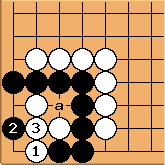 White almost fills the black eye with a killing shape, the bulky five after playing at a. (In practice, White usually doesn't need to play a, but can count black's stones as being dead as they stand.)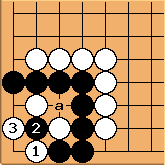 If Black throws in at

, White can still almost fill the black eye with a killing shape, this time the rabbity six (again, a move at a would complete the killing shape).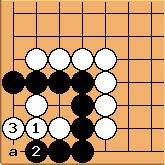 This looks similar to the success diagrams, but because of the liberty at a, White can no longer fill Black's eye with a killing shape. The result is seki. If white plays

at

, black still plays

, with the same result.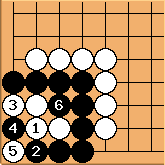 If White tries to make a ko with

, this also fails, as Black has enough liberties to crush the ko with

.
---