Beginner Exercise 191 / Solution
The only solution is the atari at

.
If

makes a throw-in, then

captures the

stone and lives.
... because

would capture all the Black stones in a snapback.

here puts all the Black stones into self-atari, hence a failure.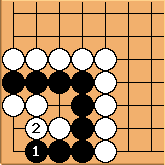 This is also a failure for Black, since Black will not be able to avoid a ko. See Beginner Exercise 194 for more.
---
It may be abusing the problem, however I think that if black played

it will lead most probably to seki
fractic:

only leads to death.
anonymous: Beginner Exercise 194
unkx80: Not the same problem as Beginner Exercise 194!
---