Beginner Exercise 189 / Solution
Correct solution:
---
Wrong attempts:
The main trap in this problem is that Black cannot play at

. Because

is a snapback, in that if Black plays at a to capture the

stone, then White will capture the Black stones by playing at

again. Hence, the

stones cannot be saved, and the whole group is dead.
---
Ohh and why does black need to add a move?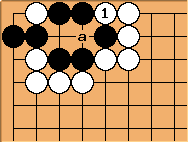 Because white can kill! Black can't play at a! (It'd be self-atari..)
---
Solution by Reuven.
---