BeginnerExercise187/Solution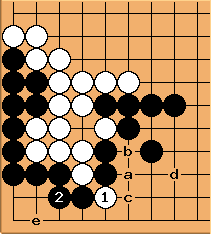 Hans: White has some more ko threats here, for example: a, black answers at b, and depending on the rest of the board c. This threatens to escape at d and black eventually has to play at e in the corner in order to live.
LukeNine45: Yup, that's what I had in mind. :) Dieter: Myself I'd rather talk about aji at d but generally I agree. Here's my reason: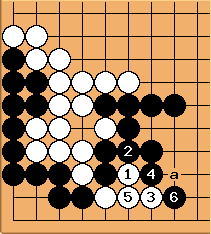 White has two ko-threats

and

, but then her potential (aji) has diminished. Yes, she has increased her liberties but her group has also become heavier so in my opinion it is better to leave

and

unplayed. Anyway, this is a difficult matter, but my main point is to call it aji rather than the more specific ko-threats.
---