Beginner Exercise 121 / Solution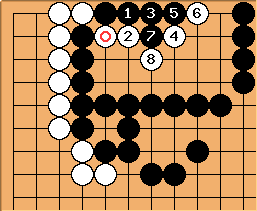 After

, White can catch Black in a net with

.

and

can be exchanged without changing the result.
Brent: Then what? How does Black continue after

?
ProtoDeuteric: I believe that a play next to

, on the edge, would be in order.
---

at

.
Because

will force a protective move, anyway. Even if Black can play

-

with sente, Black will have to play

.
OTOH, if Black plays at a, he threatens

, saving

.
It is a very close call. Depending on the rest of the board,

could be better.
See One-Two-Three.
Gronk: I was surprised not to see discussion of the possibility of ko.
Gronk: Therefore,

at

is safer.
---