Beginner Exercise 121 / Attempts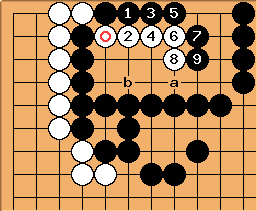 demetria: Taking into account the level of play, White can probably start a capture race. White will need to get ahead by making a hane or capping play of some sort. If Black resists after becoming committed deeply enough, White can make a net and probably capture the eye-making stone before Black knows what hit him.
To minimize the damage, Black should turn white aside with a hane at earliest opportunity.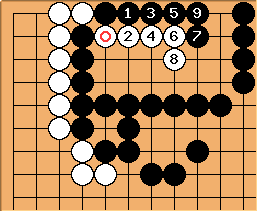 unkx80:

must capture the four black stones by playing at

. Otherwise,

connects, and...
---
Another try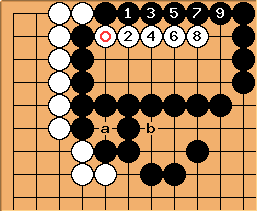 Confused: This is probably the sequence Black envisioned, when the cut at

was left unprotected. With the eyes at a and b, Black is alive and the white stones dead. Unfortunaltly, White doesn't have to play this way.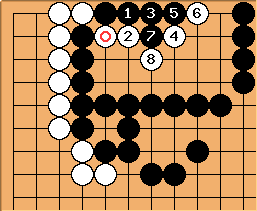 After

, White can catch Black in a net with

.

and

can be exchanged without changing the result.