Answer the capping play with a knight's move/Exception
An exception to the proverb "Answer The Capping Play with a Knights Move" can be found in the Chinese Fuseki, where ...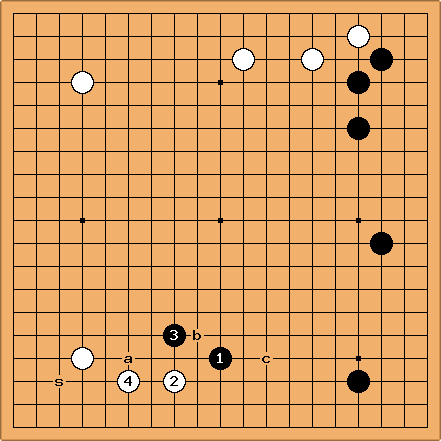 tderz:

enlarges the potential moyo and

defends the corner,
while keeping cutting aji around b and invasion aji in the c-area.
Here it can be noted, that the common proverb "Answer the capping play with a keima" (which would be the play a) is not followed.
The reasons are that
---
... to protect this cutting point, Black often plays the following sequence:
tderz: an invasion at c can now not directly link up with d.
---
Bill: I do not think that this is a case intended by the proverb, because

is itself a keima with

, which takes away one of the possible keimas for White in response to

. I think that keima is the preferred term for

, as it captures more of the quality of

than capping play.