Aji Example 3
In aji example 1, we showed that a Black atari at

ended up in the marked stone being useless, a serious case of korigatachi. Therefore, Black may decide to capture the stone differently.
Depending on the conditions, White may decide to proceed peacefully as in the diagram. He sacrifices a stone at

, and then makes outward influence with good shape. Now, ...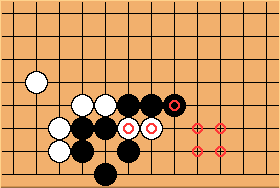 There is no way that White can save his marked stones immediately. The moment a white stone is placed at one of the circled points, however, the potential of those stones comes to life and the lower black stones are threatened with capture.
---