Adjacent
Adjacent is a common English word, meaning
  1. Close to; lying near
  2. Next to; adjoining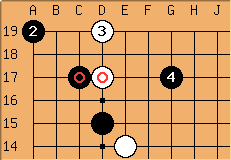 In Go, adjacency is accomplished through straight lines only.

has two adjacent empty points, namely B19 and A18,

has three, and

has four.
The marked stones are adjacent, the unmarked are not.
---
Tapir: This looks to me like a complicated explanation for a common word that may not need one at all.
Patrick Traill: The explanation is indeed rather complicated, but the concept is useful in mathematical definitions of such concepts as (strictly) connected and go on an arbitrary graph.