4-4 point low approach one-space low pincer, high double approach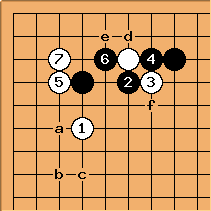 The high double kakari of

is played less often than the low one of White a. It also has fewer variations; rarely is anything played except the sequence to

.
The quiet exchange of

for

is again joseki (see below for Black resists). Compared to the position with

at a, the left side is more important. Black has interesting follow-up moves at b and c, places he would not dream of playing if White had the solid position with

at a.
After black tenuki, the exchange of white d for black e is large, especially if the ladder at f favors white.
---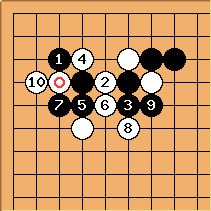 The great advantage for White of the high double kakari, is that Black can't now try to resist by playing

here. White can march right through Black's position with

to

, and after

, Black's position crumbles.
---
AndreEngels, Tapir