4474 Enclosure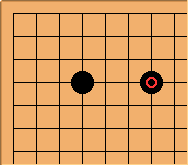 Adding

is normally Black's way of competing for central influence, in a large-scale game.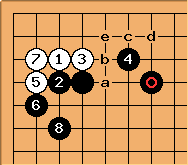 In this case

is good if a little unexpected, when White invades the corner at the 3-3.
Alex: Interesting. I guess the idea behind

is that, although it looks thin, it actually leaves less aji than a hane at b. White can't try to cut with a, because Black b is sente against the corner. Meanwhile, if White attaches underneath at c, as in a similar non-enclosure san-san invasion joseki, she ends in gote, on account of

being in place already. Now that I see this, it makes sense, but I've never seen it before and wouldn't have found it myself.
Davou: Seems interesting indeed, but I have the feeling that black should press for sente early in this position. Closing the shape by playing B himself completes the wall's thickness, ends almost all ko threats, and prevents white from (eventually) making this invasion larger than a normal 3-3 would be (in gote of course).
Uberdude: Of course black playing b is also a waste of a ko threat, whereas white playing a is a possibly point-losing ko threat.