3-5 Point, 4-3 Approach, One Space Pincer, Bump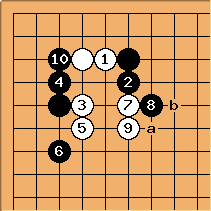 Analysis with Leela Zero shows that this uncommon variation is among her preferences as a continuation of this small pincer, presumably because it makes Black commit to the marked stone, while in many other variations this stone is sacrificed. Also,

keeps Black down at the other side. After

takes the corner, White plays a for b and may continue to put pressure on the top group.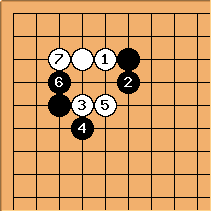 Suppose Black hanes again as in the common variation then

takes the corner, in exchange for

being heavy. This is obviously an inferior result than if

were unplayed and Black could take the corner for himself.