3- 4 point low approach, two space high pincer, kosumi tsuke
The joseki's following the kosumi-tsuke have been popular for a while in the early sixties, but have lost popularity due to the good position of the black pincer stone (

).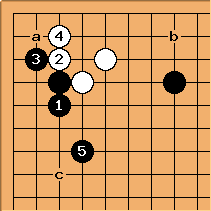 Black can keep the joseki simple by playing a in diagram 1. The resulting pattern,illustrated in diagram 2, is considered slightly better for white, because she gets sente. White can ignore black 5, because a and b are miai. Therefore black 5 could also be at c depending on the global position.
In a similar pattern, when white plays tsuke on the 3-3 point right after the two-space high pincer. After black hanes white could play the star point. However, in this case black will probably not forfeit is chance to atari at

in diagram 2.
Although the resulting position of diagram 2 is considered slightly inferior for black, the sequence is still seen in 9 professional games played between 1959 and 2001. 7 of these games where played in the early sixties. The kosumi tsuke joseki was popular at that time even though it was still highly experimental. Most of the variations in the kosumi tsuke joseki where developed at that time. In recent times the sequence of diagram 2 has become exceedingly rare.
In 4 out of 9 games the sequence of diagram 2 was played. In the other five

was played at c instead.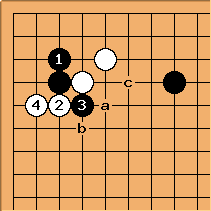 Black can spice up the local fight by drawing back to

in diagram 3 and cutting after white plays the hane. This line of play makes full use of the fighting advantages that the two space high pincer offers.
White will extend towards the side. Here black has some choices, a, b and c.
---
Authors:
---
Sources:
professional games using SmartGo's professional game database