3-4 point high approach, two-space high pincer, ogeima, Cho's variation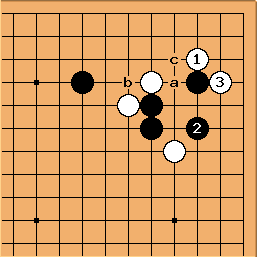 This

was first played by Cho Chikun in the 2000 Kisei title match (against O Rissei).

and

are the most common continuation, but either move can be played at a as well. Black's play there will be discussed as well, if white plays there, she reverts to the normal joseki, having avoided some of the more complicated variations. After this diagram, black can play b or c.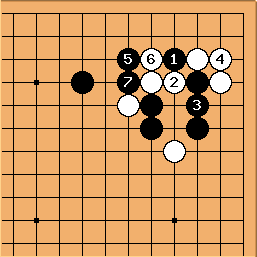 was the standard continuation in the 2000s, but since then has been surpassed by

. The continuation to

is forced.

forces

after which black cuts with

, ending the joseki. White has taken territory in sente, while black has built influence.

-

-

is preferred over the order

-

-

, because the latter leaves white the choice to play atari at

before

, giving up sente for a bigger corner and an option to slide into the top.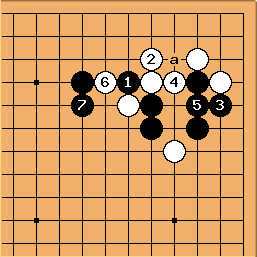 The more modern play is to cut at

without playing a. This shows the most usual variation. White is not sealed in, but black has more options against her.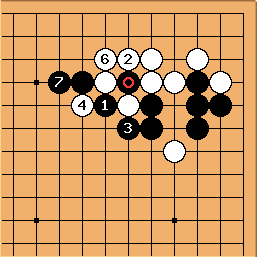 Instead of

, black can also play at

to link up his stones, giving up some of the aji against the white corner for greater thickness.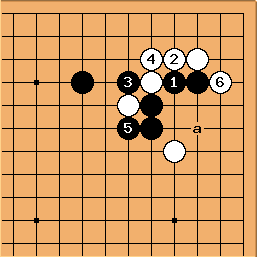 The other alternative for black (instead of a) is to bump into the stone with

here. This leads to a long fighting sequence. The moves upto

are standard;

is most usual by far, but other moves or even tenuki have been attempted.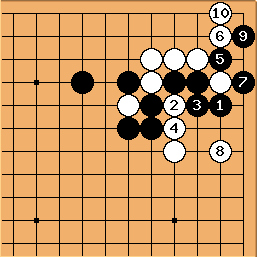 Black blocks with

, allowing white to cut with

. With the following moves, black harasses white's corner group, but his own group on the right is not yet alive either.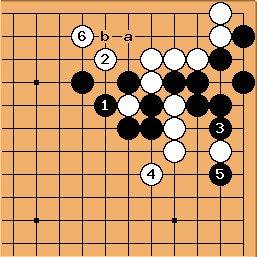 threatens to outright kill white with a, so white defends with

(or b). Now that white lives, black has to come back to his own group with

, after which the fighting spreads onto the right side.

is by far the most usual move, but after this the joseki branches out.
---
Authors: