34 Point ,High Approach, One Space Low Pincer, 33-Attachment, Outside Hane, Large Scale Fight
Continued from 34 Point, High Approach, One Space Low Pincer, 33-Attachment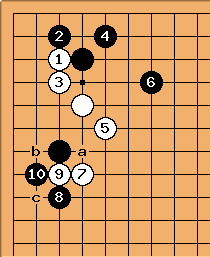 At this point, White can keep things simple with a, or make it complex by any of the cuts b or c. We discuss b here.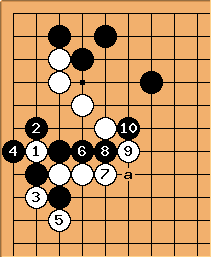 applies the proverb cut the side you don't want.

applies the underlying proverb capture the cutting stone. Even after the acquired ponnuki, Black is not yet alive. On the other hand, White's ladder at

is not at all free of aji either.

goes on to exploit the aji and cut. Up until

it is a one way street, then

cuts on a large scale, in sente due to the ladder aji which forces White to connect at a, and a race to capture occurs.

can also cut on an even larger scale, at a.

can settle for peaceful development, against the proverb to capture the cutting stone.
---
Continuation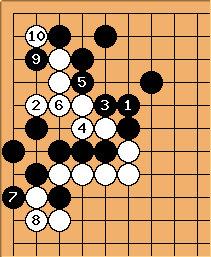 is tesuji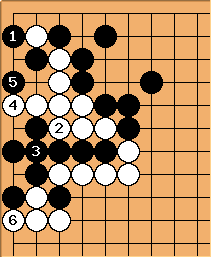 White is the first to take the ko. The value of this ko is a good 25 points, so in the early stages of the game, when this corner variation is likely to occur, moves with higher value should abound as good ko threats.
---
Larger scale - not good for Black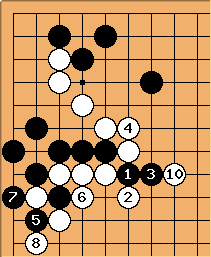 cuts on an even larger scale. After

,

must find a solution in the ko, for he cannot live locally.

is an inventive ko-threat. Next, Black will live, and White captures two stones, acquiring good thickness (diagram to be added)
---
Peaceful variation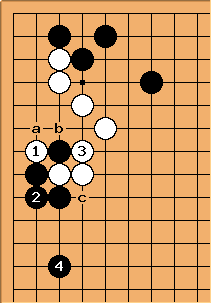 This is slightly submissive by Black, not capturing the cutting stone, but depending on the overall situation and the playability of the ko in the primary variation, this may be the best move. Incidentally,

leaves an endgame for Black at a, but

at b would leave the thick move of c in sente for Black.