34PointHighApproachInsideContactHangingConnection/Discussion
Question
This can't possibly be right because white's position is ruined. But what is the correct continuation? \[Durak\]
Tapir: The best place for longer questions is Big Question Mark, all the people looking at RecentChanges will then instantly see that there is a new question.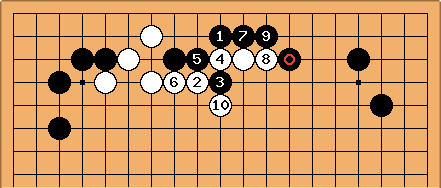 According to a game database that is what professionals play here fairly regularly. Here the White position is ruined as well, and White offers even three bonus stones (which black usually don't tries to take for the moment). The reason is,

was threatening exactly this, and White did ignore it on purpose to play a big move somewhere else, so White is a move behind and has to expect a black invasion like this. In your second diagram, I don't think White is especially bad after connecting at a. Always remember White got a big move elsewhere. The following is a proposal what to you may want to do, if you intend to ignore the black approach. Exchange

for

before leaving it as it is.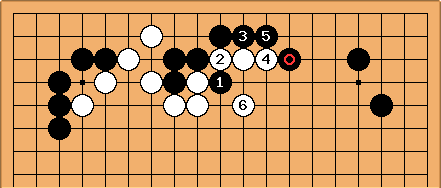 - Ok, thanks for your help Durak?