Other Possiblities for ?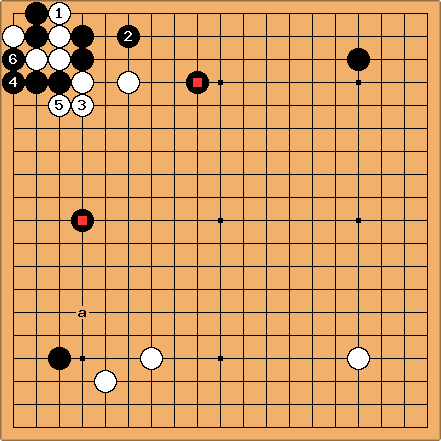 White got influence, giving black corner. Locally speaking (not considering the position of stones around upper left corner), this is thick result for white.
But,in this position, not good result for White in my view. Black's 2 marked stones make white's influence to be useless. ( or limit further development of white's influence)
IanDavis Equally though can't we say that Black's outward stones (particularly on the left) are somewhat uncoordinated. If white (say) starts a taisha I don't know how Black reacts.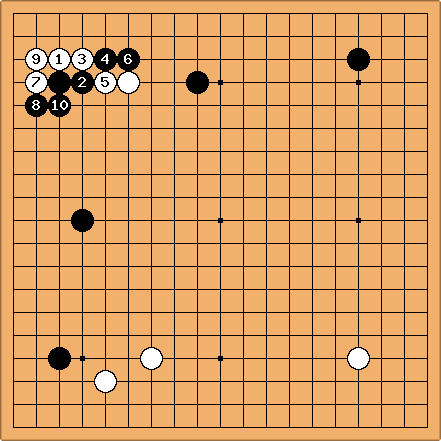 For black, this resistance against

can be thinkable.
kokiri - i was surprised to see the joseki books suggest that W`1 is not really playable because of this continuation...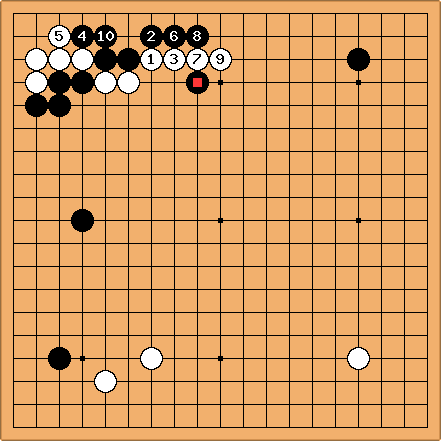 But, Im not sure if this result is reasonable for black.
k - but surely the corner is dead here?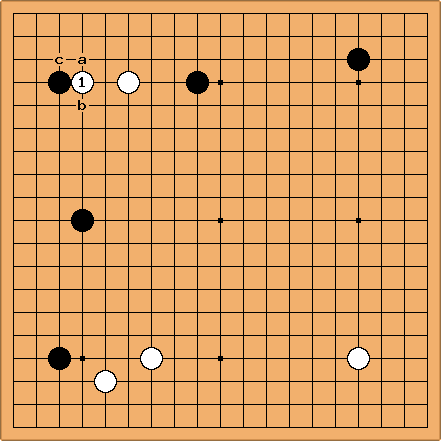 At last, against

, black's moves 'a'~'b' are expected. About these moves, I will shows expected variations after real games moves of this rengo are made sufficiently...
Moves 16-25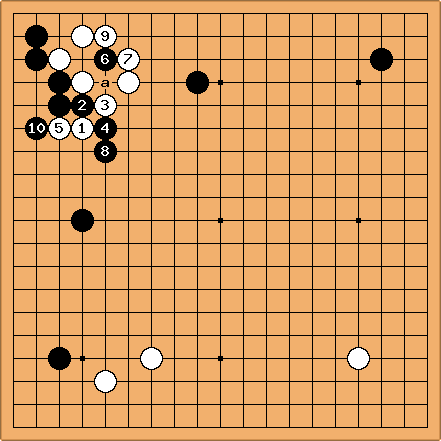 JoelR: I'd like to hear what stronger players think of this sequence. I played

and

. White 16 (

above) posed interesting challenges for both sides. I felt it was an overplay, because Black's corner looked too strong, but we did get out of it with sente.

-

-

seem forced to me.

and

are just good, and I didn't like the other choices for

. Playing

at a seemed too submissive, and at the time I rejected playing at

, because it left the top too vulnerable. I did worry that Black would play

soon, but I thought if we played

on the upper side, we might be willing to let go of some stones in the corner while we settled further in Black's territory.
After

on the left side and the peep at

, I played

, again planning to make an extension if Black continued the cut. I think

was necessary, because of the ladder aji of

and

. Was

good? It seems that if White plays

, we at best make a weak group for ourselves.
PurpleHaze: 3 is a mistake because black should play 8 at 9. The result should be something like...
Hicham: I have trouble saying who got the better part of it, in Purplehazes variation. I think White got a lot of thickness and the two black stones close to whites wall do break the influence, but they are to close for me. I think 6 was too early, if Black just defended at 4, then White had to fix the weakness and Black had sente to take an oba.(my diagram skills are a bit lacking, so forgive me for not making one to show my variation) BTW, Isn't there someting wrong with the numbering in these diagrams?