Status Question [#2195]
Status Question
(2010-02-18 20:45) [#7253]
This is a position from a game. Is this an easy answer? I couldn't tell the status at the time.
Phelan
:
seems dead
(2010-02-18 23:10) [#7260]
Phelan: To me (OGS 15k) it looks dead. There seem to be some tricky moves by White, but I think if Black answers correctly there's no way for white to live.
PeterHB
:
Some can be saved.
(
2010-02-19 02:37
) [#7261]
Phelan
:
((no subject))
(2010-02-19 02:57) [#7263]
Ugh, once again, looked for complicated answers, and missed the obvious one... :( I stand corrected.
((no subject))
(
2010-02-19 08:53
) [#7266]
symplicity: White may be able to save more, primarily because of the threat at a.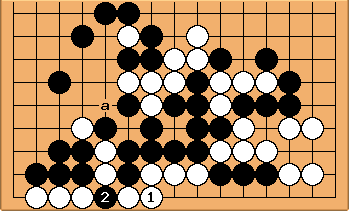 seems to guarantee saving almost everything. After

, if

captures the 2 stones, white can retake with

: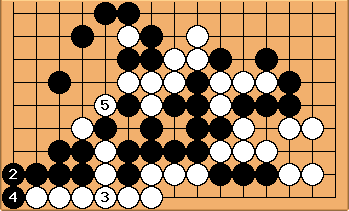 If black declines the 2-stone capture to attempt a connect-and-die, then white connects with

, and has the this sequence to save the day.