Side Attachment
Side Attachment is a standard tesuji.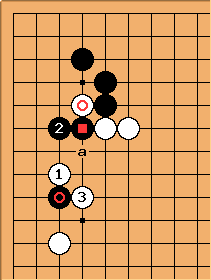 is the Side attachment tesuji used in this case to make shape for the white stones on the side. (From problem 27 in Five Hundred and One Tesuji Problems.)
It is most effective, as in this example, when the opponent cannot answer directly with a hane or stretch as he would like, due to a double threat. Here, Black does not want to allow White a, so answers at

, which allows White to be the first to hane with

.


, trading the

stone for the

stone, lets White settle comfortably here, neatly sidestepping the fight Black was hoping for when he cut with

.