yitanchunqiu
Yitanchunqiu 弈坛春秋
Yitanchunqiu (弈坛春秋, Hanyu Pinyin: Ýtánchūnqiū) is a pay-TV channel in creation, situated in Beijing.

The channel focuses on weiqi.
External links
Comments
I visited the studio and the office first time in Sept/Oct. 2006 (tderz).
Yitanchunqiu will become a nation wide pay TV channel and has set the objective to become the best Weiqi channel.
The quality (of what I could see as only occasional observer) is very high (in comparison to the other WeiQi-TV programs available on Chinas 50-60 channels).[1]
At present it is free of charge.[2]
Some of the staff: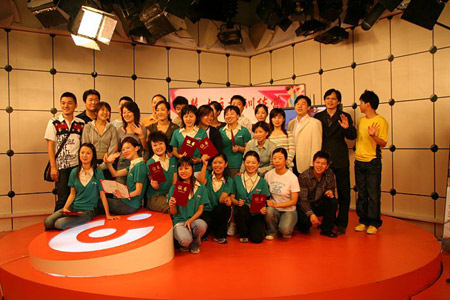 See also:
---
[1] They claim to pay professionals the most.
[2] Average Chinese TV comprises dancing, singing, several simultaneous variations of Monkey King Su Wu Kong (from the 'Journey to the West'), Kungfu of Heian etc aera etc..