yitanchunqiu
Yitanchunqiu 弈坛春秋
Yitanchunqiu (弈坛春秋, Hanyu Pinyin: Ýtánchūnqiū) is a pay-TV channel in creation, situated in Beijing.

The channel focuses on weiqi.
It's difficult to ascertain the status of this channel in 2021. The linked pages still exist, but the copyright they cite is of 1996--2006, and the latest year unambiguously mentioned is 2007. Without Chinese proficiency, I (bugcat) can't venture further comments, except that my suspicion is that the channel was, if not a failure, probably not much of a success. There is also a possibility, though, that the site was moved and old pages just not deleted.
External links
Comments
I visited the studio and the office first time in Sept/Oct. 2006 (tderz).
Yitanchunqiu will become a nation wide pay TV channel and has set the objective to become the best Weiqi channel.
The quality (of what I could see as only occasional observer) is very high (in comparison to the other WeiQi-TV programs available on Chinas 50-60 channels).[1]
At present it is free of charge.[2]
Some of the staff: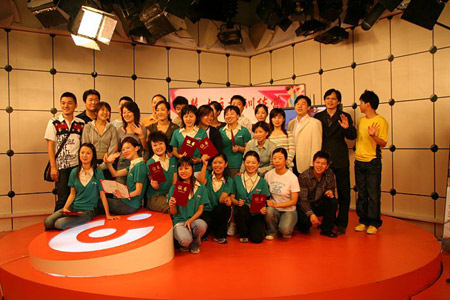 See also:
---
[1] They claim to pay professionals the most.
[2] Average Chinese TV comprises dancing, singing, several simultaneous variations of Monkey King Su Wu Kong (from the 'Journey to the West'), Kungfu of Heian etc aera etc..