Yet Another Novice Tries To Write AGo Program/ Move Undo Data Structure And Algorithm
I gleaned this from Bruce Wilcox's discussion of RiscIgo. He describes his move structure as:
Color (1 bit)
Location (9 bits)
Ko Flag (1 bit)
Kill Directions (4 bits)
Plus 1 unused bit = 16 bits
What caught my eye is Kill Directions. How can 4 bits be enough information to replace captured stones upon undo? Ah, well of course! You just flood fill starting at the adjacent empty point(s).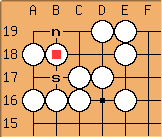 To undo this move, just flood fill with opposite color from the North (n) and South (s) points and then empty the location.