Xuanxuan Qijing Problem 314 / Attempts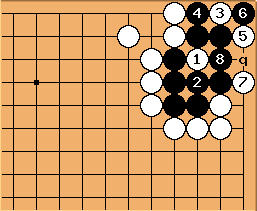 ProtoDeuteric: I think this is it.

at

. It will be ko. Black will seem to have the advantage of taking first, but because of the locally urgent

that black has to answer, white ends up taking the advantage because he takes the ko first in terms of the global ko fight. Note that black can never play "q" before taking the ko due to a shortage of liberties.
unkx80: Only ko...