White's Fuseki Choices
Most of the structure that is given to fuseki is from the Black point of view. Essentially all named fuseki are patterns for Black's play. What is White doing meanwhile? White must decide at what point to come to grips with Black. Generally speaking Black starts with the initiative (compensated for by komi). White can choose to develop separately or confront Black early. White faces this question at every turn beginning with

. Dave
The Meaning of White Two in Fuseki
Black plays a stone and White responds. What does White have in mind? What factors do different choices represent?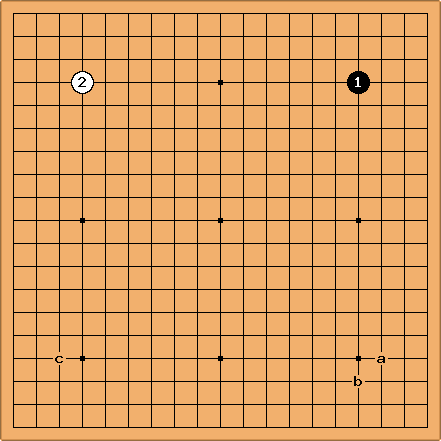 When Black opens the game with

,

is the most common reply. What is the meaning of this play?
White plays flexibly and waits to see what Black will do next before responding. Currently (2000-2004) in professional play White expects Black to play at either a (aiming at a mini-Chinese fuseki) or at b (aiming at either a Chinese fuseki or a Kobayashi fuseki). White has plays available for

aimed at whichever strategy Black pursues. Diagonal plays such as c are also possible but much less frequently encountered when both

and

are on the 4-4 points.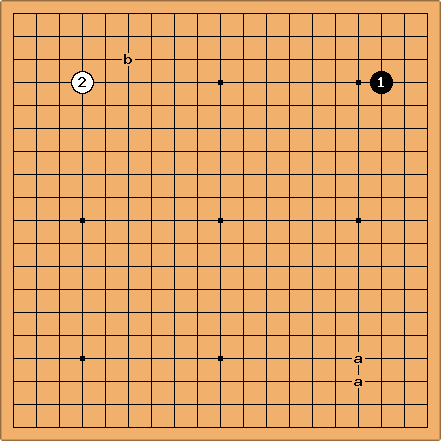 When Black opens on the 3-4 point instead with

here,

is still the most common reply. Is there a difference between this

and the previous diagram?
Currently in professional play White expects Black to initiate a mini-Chinese fuseki by next playing at one of the points marked a followed by making the approach move at b. White may still intend to refuse to go along with Black by playing a pincer against the Black approach at b or by playing an approach himself against the upper right corner. White is still able to frustrate this strategy by playing

against the upper right or lower right corners. However, the play at

itself is rather a passive than an active play in terms of what White can reasonably expect given Black's fuseki choices in modern Go. Black has more or less declared his intentions and White has so far gone along.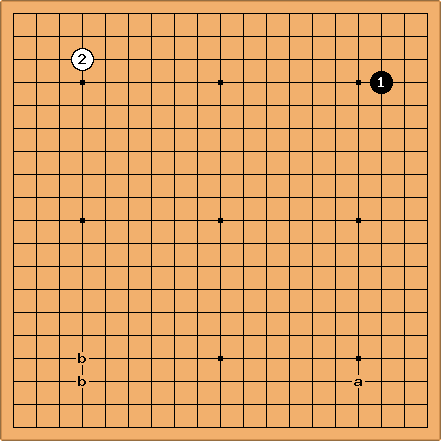 Black opens the game on the 3-4 point and White responds on the 3-4 point herself. Although some people :-) think the 3-4 is fundmentally less active than the 4-4, in terms of this situation White has clearly set out to confront Black immediately.
This is a sharp contrast to the previous diagram's play at 4-4 where White plays a waiting game. Black can no longer achieve a mini-Chinese fuseki. That strategy has been stopped in its tracks. There is a price for White however. Once he frustrates Black's original strategy, Black must find a new one. Where historically Black's intention was to continue with a, in modern Go he is rather more likely to switch to a tasuki fuseki pattern with a play at one of the points marked b. White must be prepared for this.
What Drives White's Choices?
Abstract considerations - what we might call Fuseki Principles
Strategic considerations, planning how to control the course of the fuseki and bend it in directions other than Black intends.
In modern professional play, most of the abstract principles are given. Little thought has to go into it because the fuseki has been studied intensively for many decades.
The considerations on this page relate more to the level of planning how to discomfort your opponent by not falling in with his plans. Choosing an answer to

on 4-4 is not about fuseki theory but about your game plan.
This seems to often operate at the level of kiai (fighting spirit). Looking at the results in the databases does not show why White should struggle to avoid the mini-Chinese for example. Over time it has not actually been that successful a fuseki choice for Black. At the same time there is currently a good deal of effort going into research in that direction at the pro level. Much of the feeling seems to be that such large scale fuseki allow the game to develop too long according to Black's plan. This is a feeling that even we amateurs can appreciate, right? None of us like to feel that we are just following along with our opponent's plan.