The fourth line is the line of victory
This proverb (citations of its usage needed) serves as a beginner advice that, on a common 19x19 board, pushing the opponent along the fourth line, so that the area underneath becomes his territory, is usually bad, or at least deserves to think twice about.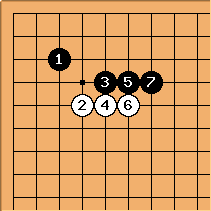 Generally, Black being pushed along the fourth line gets more compensation in this pushing battle, compared to White's influence, accordingly

is an uncommon approach to the 3-3 point. It is, however, played when the influence works well with regards to the rest of the board.