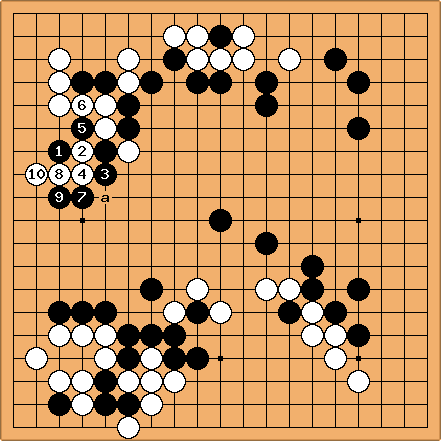 Alex: Looks to me like Black has a number of good options. I would probably instinctively play

immediately, but since you say it's a tesuji problem, something more clever is probably in order.

looks like a shape point to me, and White doesn't seem to have anything better than this sequence, which helps Black enclose a lot of territory in the left-centre. After

, the safe move is a, and Black's lead is enough that safe moves are probably the best plan.
tderz: Cutting point a is indeed a problem to be resolved in gote.
This sequence is not correct.

"instinctively play immediately" ... amazing!
Many people would descend to . Could you elaborate further on ?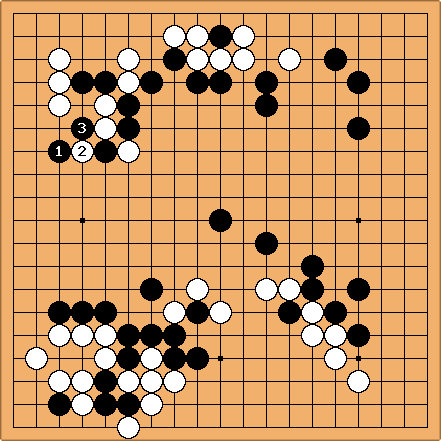 ilan: My instinct says to play

here.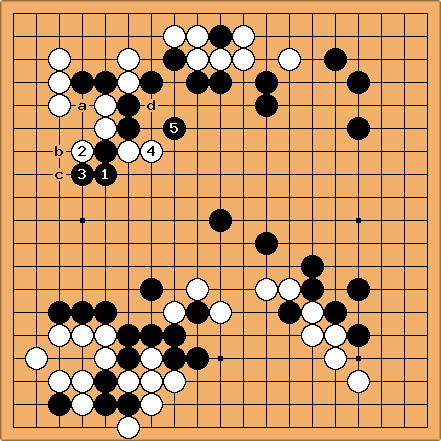 Alex: Well, the original reason I said

here would be instinctive to me is that it threatens ladders at both a and

. However, when W responds at

, if Black plays at

immediately, White at

would be sente, so this isn't acceptable.
I still don't think

is bad, though, because after Black blocks at

, even if White exchanges

for

, she'll have trouble pulling out her cutting stones and they won't have much value, since Black is strong enough on both sides. Meanwhile, Black will probably get to force at b or c, which is rather painful for White.

tderz: Alex, you correctly conclude, deduce that here is not the proper shape. The later is aji keshi for the cutting points.
White will not play this way. ( above)
tderz: Chinese 7 dan, German 3dan instinct calls for ...(a basic shape move)

I could write it here, but simply suspect that you are still online.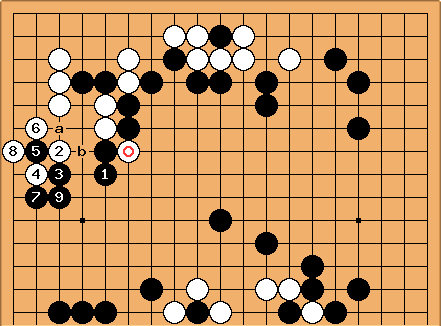 [10]Alex: If White plays the table point at

, Black can attach at

and crosscut with

. There are many variations after this, but most of them seem to start a fight that is unreasonable for White because of Black's thickness on the left, so White does not seem to have anything much better than

, which lets Black make a lot of territory, albeit in gote. I don't think there's any need to capture White's marked stone at the moment.
White's result would be slightly better in endgame terms if she played atari at

before capturing with

. However, then Black would have the option of starting a large ko by resisting with a. I haven't taken the time to count threats, so I don't know whether it's worth the risk for White.
is good (part of the solution)
is aji keshi, finding something better is the solution.
first at is not possible - without ko
I think there is a great need for controlling cutting points in the only moyo vs. a 7-dan ("capturing White's marked stone" = honte).
Alex: My thinking behind

instead of b is that b will still be sente later, since the follow-up is about 10 points sente, so maybe it's best to keep it around as a ko threat. However, that was assuming that Black would take gote and connect at

. If the plan is to tenuki, I guess you probably need b first, or else whatever tesuji you have in mind for the next problem may not work.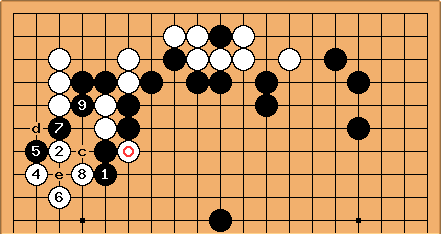 tderz: basically Black gets

without ko. This is big.
Of course, it's better to exchange first -c-d-e before that (ko).
---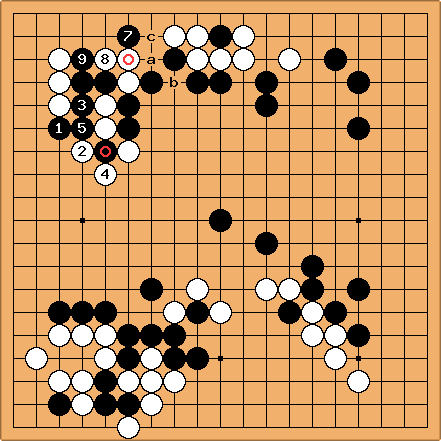 [20]zinger: At a glance, I considered

the obvious move, and indeed I'm still not finding much better. Here is one other possibity I thought of, but I have my doubts about it - white is more likely to play

at a,

at b, then c, and black doesn't seem to have accomplished much. I'm looking forward to the solution.
tderz: [30] How about here? ("Connect your own stones, leave the cutting points to the other.")
If at k, white could create a triple miai (o, m or around n) with l or j.
---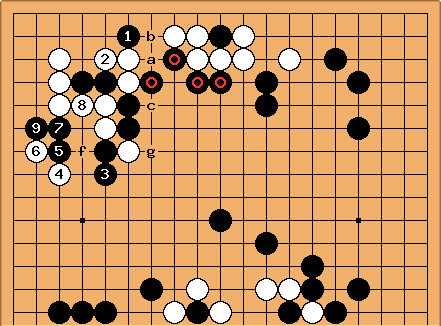 Bill:

is a kind of tesuji, but is it aji keshi? After

White can respond with

to

. The side is larger than the four

stones, no?
Although after

-

it's a difficult fight.
tderz: I agree Bill. Black needs 2 moves a+b (tempo) to connect to the rest, this while already 1 white move a would be sente (of course this would be aji-keshi too).

White f+g form very bad geta-aji against Black

here (if he wanted to resist too much).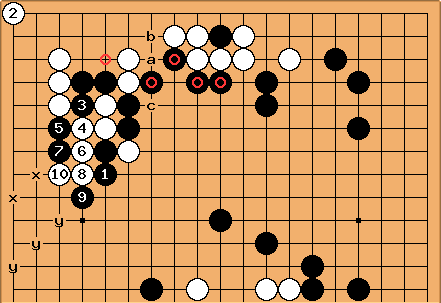 tderz: a white stone on

severely erase this ladder aji here.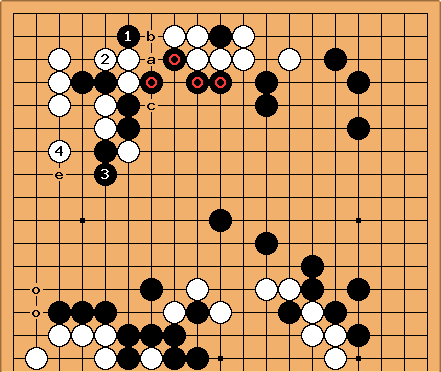 tderz: Despite that the ladder aji is gone after

, White will still play this

here (safe).
White does not need to extend to e (unsafe), because Black has a (double) open skirt (

+o).

So, my original question was meant to be:
how to continue after ?

(exchange - can be left out)
---
Conclusions
During the game I thought that the variation [10] (with a little difference, cf. /solution is the solution.
Now I am not so sure anymore.
Because [20] is so bad for white, she cannot allow it and will play [30], which ends in gote and therefore has lots more aji than [10], but is slightly bigger.
If one was 90% sure ("pretty sure") to handle the aji and knew the score (I knew neither :-( ), then one could play [30].