Snapback Problem 20 / Solution
Solution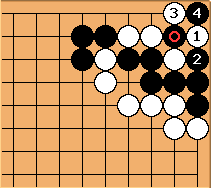 White needs to give atari to the marked Black stone, otherwise Black will take one of the two remaining liberties of the white group at the top or take the single White stone.
The solution is for White to give atari with

, and then to set up a ko in the corner with

. White needs to win this ko twice in order to kill the Black group.