Sealing In By Cutting Across / Discussion
Should White play the intermediary atari?
by Charles Matthews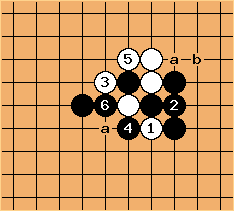 If this happens, White at a is less powerful (because

assists Black at b).
tapir: I would at least consider peacefully drawing back with

. Like this there still is a cut with a ko, but White has here also the possibility to cut at a, which is still a ko, but much heavier for Black (White resolving the ko by capturing

leaves Black with broken shape and White connected). So in either case, while the hane lost something it gained something else too.
Also, I believe this should be a shape page. Often exchanges at a and b might have been played before cutting across. See the tesuji dictionary example.


Not entirely clear, though.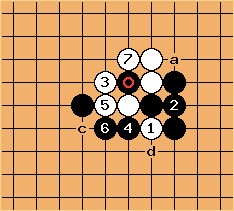 If the fighting is intense, White might prefer this. In principle

is bad style (rather than taking

off immediately). Sometimes White might want to form one immediate eye; and leave the cutting point at c. In that case it could be true that the aji of White at d later is worth having; and more important than the direction of the bend at a.
If

is actually going to be played, therefore, it looks as if playing

atari first will sometimes be correct.
tapir: I find the last diagram hard to stomach and almost surely displaying a mistake (under most circumstances). Creating a cutting point in gote, is not going to be efficient (even if Black just answers, the Black move likely does more work than the White stone inside), i believe it is fairly easy to show this by tewari.
---