Reuse Tsumego
Caution: these are tsumego related to the Go variant labeled ReuseGo. Don't let these shapes affect your feeling for shape in regular Go.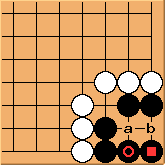 Black is alive. Replacing the circled stone at a and replacing the squared stone at b, are miai.
---
BillSpight: That does not kill. White has an, um, UnderTheStones play. ;-)
---
Right so. Should have known better than taking the corner for an example. How about this one ?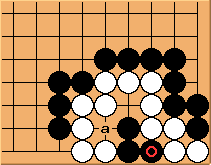 Normally alive in seki, now dead, right ?
Can't White use the same trick to get a ko?
victim Can't White fill Black's liberties and capture, then after Black plays at the nakade point, move the White stone at a one space to the right?