RetrogradeAnalysisProblem7/ Attempts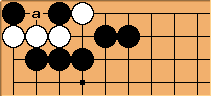 Dan: I think this works. White originally captured at a, capturing two Black stones.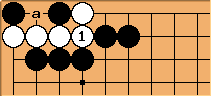 He retracts his move and plays at

. Now Black cannot play at a because it is suicide, so White lives.
Fun problem! It took me a couple minutes to see how it could possibly work.
---
Arno: a second possible solution is that White's last move was a pass or tenuki :o)

ferdi: Sigh... Every time I show this problem around I hope that nobody would mention these 'solutions', but it never works :-) I completed the stipulations at Retractor Problems to exclude these possibilities.
EliDupree: I got to the problem page from RetrogradeAnalysis. The problem page doesn't even link to RetractorProblems. Maybe add a phrase like "Following the general rules of Retractor Problems" to the problem page?
unkx80: Okay, done.